Perks of working with us
We'll never make you iron your shirt, sit in a cubicle, or suffer having a managerial type hovering over shoulder. At CityMax.com, you can wear what you like and look how you feel. We trust you to manage your own time and reward you based on results.
We work hard and love our downtime: there's afternoon Rock Band sessions, foosball and Wii tournaments, a catered lunch program, yoga classes, Friday open houses, two Directors of Greeting (DOGs) named Jack and Farley, a snack-stocked kitchen and more.
CityMax.com was awarded the #2 Best Company to Work for in BC by BCBusiness Magazine in 2009.
Open, inspired workspace
You won't find any grey, soul-crushing cubicles here. We believe in open spaces and candid, animated conversations. Our funky, open concept workspace - "City Hall" - is headquartered at Harbour Centre in downtown Vancouver, BC Canada.
Friendly, collaborative environment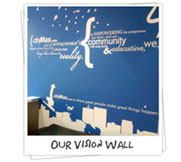 Here, you'll be immersed in a creative, friendly environment where work and friendship collide. Collaborate with people on your team or share your ideas with our Founder - we are all equally approachable.
We thrive on being an innovative, fast-growing company and want to hear your thoughts on how we can improve our processes and grow our business.
Start your own business, we insist
We help our customers grow successful online businesses, so it makes sense that you should have one too. Every CityMax.com staff member is required to create their own online business using our easy website builder.
Need help tweaking your design, writing your copy, or driving traffic to your website? Just ask. We'll even give you time to work on your business during work hours.
One of our staff members made $40,000 in his first year with his online business! And yes, he's still with us.
We love learning
When you grow, we grow - it's that simple. If you find a training opportunity to grow your skills in one of the many fields our business impacts, let us know and we'll most likely foot the bill.
We also provide opportunities to expand your knowledge in other areas. Come to a free "Tuesday Learning Session" and get tips on everything from how to buy your first home, boost your energy and vitality, create more time freedom and more from guest speakers like investment experts, naturopaths and in-demand business coaches.
More recent highlights:
Lunch with self-made multimillionaire Robert Herjavic from TV's "Dragon's Den"
A guided architectural walking tour of downtown Vancouver
Pancake breakfast at a local eatery to watch the 2010 Olympic torch relay
An elite training seminar with Harvard Business School's Dr. Francis Frei
An all day off-site team retreat, catered lunch and curling at a local curling rink
Our annual 3-day staff retreat at a swanky executive country resort