Pay-Per-Click Advertising:

Get Your Website on Search Engines Now
When you search for something on a search engine, you'll find 'featured' or 'sponsored' results near the top or on the side of the page that look very similar to the ranked results. This is the search engine's pay-per-click (PPC) advertising system. PPC advertising lets you get your business included in search engine rankings almost immediately, instead of waiting for months for the search engines to pick it up on their own.
How it works:
Bid on keywords that match your business. PPC services like Google Adwords and Yahoo! Search Marketing offer tools to help you find keywords and price ranges that will work for your business (ex. keyword 'tools' for a hardware store). Bid prices range from $0.05 to over $5.00 per click, with more commonly searched keywords, like 'mp3 players', being more expensive.
Write an ad/description using these words. Use this description to tell your marketing message. The keywords in your description will be highlighted and will draw your potential customer to take a closer look.
Your ad appears when someone searches your keywords - " the higher you bid, the higher your listing will appear on the results. The highest bidders are usually placed at the top of the search results, while the other bidders are placed on the side. Some search engines also order listings based on how frequently an ad is clicked. More popular ads are ranked higher.
If searchers click on your ad, you pay the bid amount. You ONLY pay when they click and never more than the amount you agreed to.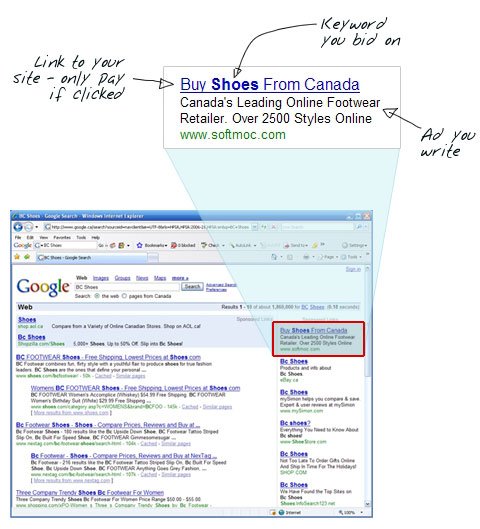 Why it's great:
Targeted Audience. Your ad is only being shown to people that are already looking for a topic related to your product.

Instant Search Engine Exposure. It may take a long time for your website to show up on normal search engine results, if it shows up at all. With PPC advertising you're guaranteed that a search engine will display your site.

Pay for Results. You only pay when people click your ad through to your website.

Manageable Budget. You decide how much you're willing to pay per click. You also can set daily or monthly budget limit.

Measurable Results. You can see how many people are visiting your site and buying your products as a result of your advertising.

Levels the Playing Field. Some search engines place your listing based on how many times they've been clicked in addition to your bid price. A well written ad may encourage people to click, meaning your ad will be higher in the listings without necessarily having to pay a high bid price.

TIP!
Many website builders give you free credits toward PPC advertising.